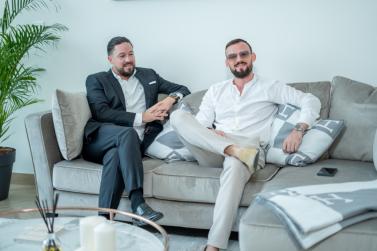 Ajay and Rob from Mayfair Interiors discuss their approach to furnishing 1 Residences by alwasl
Words by Aneesha Rai in Portfolio · Jul 26th, 2022
In this edition of 'Open House', we speak to Ajay Hargreaves and Robert Richmond from Mayfair Interiors and how they approached the furnishing of 1 Residences by alwasl, a newly launched residential project that is ready to purchase and move in with the option of selecting a furniture package offered by the company - thereby making your move to your new apartment easier with sophisticated, high-quality furnishing you can be proud of. Proudly British-owned, the duo talk about the company's strong work values & ethics while providing exemplary interior fit-out turnkey solutions.
Ajay: The first thing that we saw when approached with the 1 Residences project was the style of building and the location. Sotheby's International Realty is a globally renowned brand, one that I've always often looked to view all the beautiful properties around the world. When we got the opportunity to work with LUXHABITAT Sotheby's on this project, we knew it was going to be luxury, as it's a premium product. We worked on three different show flats and tried to choose a style that addressed the contemporary nature of the building, a luxury finish that reflects well for LUXHABITAT Sotheby's, and something that was in line with our own ethics and ethos as a company. We had about four days to realize this vision, which we managed to do successfully.
Ajay: We got to working on the project as soon as it was handed over to LUXHABITAT Sotheby's to sell. One of the key things for the company and for us was being able to be quite swift in our process and be able to deliver something high quality and within a short timeline. We pulled out the stops to achieve these results.
The location of 1 Residences is one of the highlights of living here, with its proximity to Downtown Dubai and Sheikh Zayed Road, which is kind of the spine of Dubai. There are some beautiful landmark buildings all around you and tt's not right on the main road; it's just off, which helps create a reduction in noise pollution and plus and traffic. It creates a more kind of quiet community, but right on the doorstep of everything. And then, there's the fact that it is a modern, contemporary, beautiful building. Whichever side you're on, you know, there are really quite spectacular views - whether it's the sea or the Burj Khalifa. I think these are the things that make for quite an iconic opportunity for investors.
Every furnishing and dressing has been executed by us, from the concept to the color schemes and styles to the artwork. We wanted to make sure that each apartment was different, but there was some kind of fluidity throughout. In terms of colour palettes, we went with natural and earth tones. Our aim was not to go too wacky with color schemes and not too bespoke to personal taste. It had to be something that was going to appeal to a mass audience without being too overpowering for the room. So there were a lot of key considerations as well as being able to deliver in the timeline. We achieved a balance between what we could access and source quickly, what met the price point of the client, and obviously the style that we wanted to reflect.
Rob: For the furnishing, we worked with a number of European brands, British lighting manufacturers, and a number of German, Swedish, and Italian manufacturers. We also got some furniture made in-house. For this particular project, speed was one of the key drivers, so importing items wasn't going to be viable. We like to always try and work with local companies as well, so we partnered up with local manufacturers, suppliers, and distributors. We like to blend both local and international together to make a nice fit, and that kind of helps investors as well to meet the right price points. There are going to be a lot of investors that are buying purely for a yield-driven play, so it was all about return on investment for them, so we definitely had this in mind.
We sourced furniture which is practical, aesthetically pleasing, and durable as well. It's about choosing the right materials that will last an investor for ten-plus years. These are the kind of key considerations we took while finding the right blend of furniture.
Ajay: We started Mayfair Interiors in Dubai two years ago, after being successful in the UK since 2004. When we arrived here, there were very few British and European companies with great service and quality levels. Our approach was to try and get the service levels that we expect to receive ourselves which we thought was lacking in the Dubai market.
How we also operate as a business, is very different from a lot of the other companies. We have quite a flat structure, in the sense that we value all our employees the same. You're only as strong as your weakest link, so whether someone's a laborer or an electrician, a carpenter or their manager, every single person across the team is important to delivering the project. We even put in a profit share on projects so that we deliver things on time to specification and within budget. This results in a happy client and happy employees too as we then distribute profits across the whole board. We then have a positive social impact, which is quite important to us. It's good to make money, but if you can have a positive social impact on communities too, then that's quite rewarding to us. It does motivate people to work harder and creates loyalty across your team and makes for a stronger nucleus.