Open House: An elegantly designed home in Arabian Ranches
Peach Kohli takes us on a walk-through of her stunning timeless Alvorada Villa
Words by Aneesha Rai in Portfolio · Mar 7th, 2021
Peach Kohli and her husband Sanuj focused on thoughtful curation when it came to their home in the Arabian Ranches. Working in hand with designer Kristina Zanic, the couple has upgraded their home that involves several break out living spaces, each catered to its own functionality and an intelligent use of art pieces. The 'Open House' series sees us meet the owners and designers of some of our most extraordinary houses ahead of their sale.
Peach: This is our first home, so a lot of time and effort went into it. We spent 6 months renovating the house before we moved in and worked together with leading consultant Kristina Zanic on the layout, renovation and design. The ask was to create a minimalist, calming space without being boring. Muted colors were selected, blues, soft greys, lots of white – even the flooring is a contemporary, light oak for a fresh look. Our aim was to create a 'home away from home, with a resort feel'.
A simple and contemporary look was our aim for the furniture and because it is our first home, we spent a long time sourcing each piece. As you enter the house, we have a black marble console by The Line Concept and art by Carlos Ramirez. To the side, there is P.T Tiersky's work on our feature wall – we fell in love with this artwork, as it is so different and soothing.
The dining room has MOMA decor pieces, and a marble dining table, chairs and buffet table – all by The Line Concept. Again – the room features greys, blues and whites. We wanted the space to be calming yet functional.

The formal living room was extended and we added small windows for more light to come in, which really elevated the space. We kept it simple and minimalist with white crescent sofas, and a palette of grey, gold and white for the rest of the pieces, along with a pop of color with the art work.
Our aim for the casual living room was to create cosy space to relax and unwind, enjoy the pool views, and just spend time together in. It opens out to the outdoors with the sliding doors, blurring the lines between indoor and outdoor. It's especially lovely during the winter – we open up the doors, cook on the outdoor barbecue, have starters indoors, mains on the outdoor dining table, turn on some music on the built-in indoor / outdoor speakers, and even sit in the majlis warming our hands over the firepit during chilly evenings. It's the perfect blended living space.
The lounge is my husband's favorite spot. He worked with Kristina to build a seamless bar that holds up to 500 bottles. The lounge chairs are by Line Concept and the coffee table and side table are both from The Emporium. It's a little nook he calls his own – to listen to music, enjoy a drink or a chat and just unwind.

The kitchen was completely gutted. It was a dark wood before, and we wanted a bright kitchen with lots of light. The kitchen was created by Snaidero and is fully equipped with Siemens appliances. Cleanliness, organization, and functionality were key. We wanted clutter-free surfaces, and a sleek, seamless look. We went with a high gloss, all white scheme and marble backsplash. Again lots of storage built in for functionality.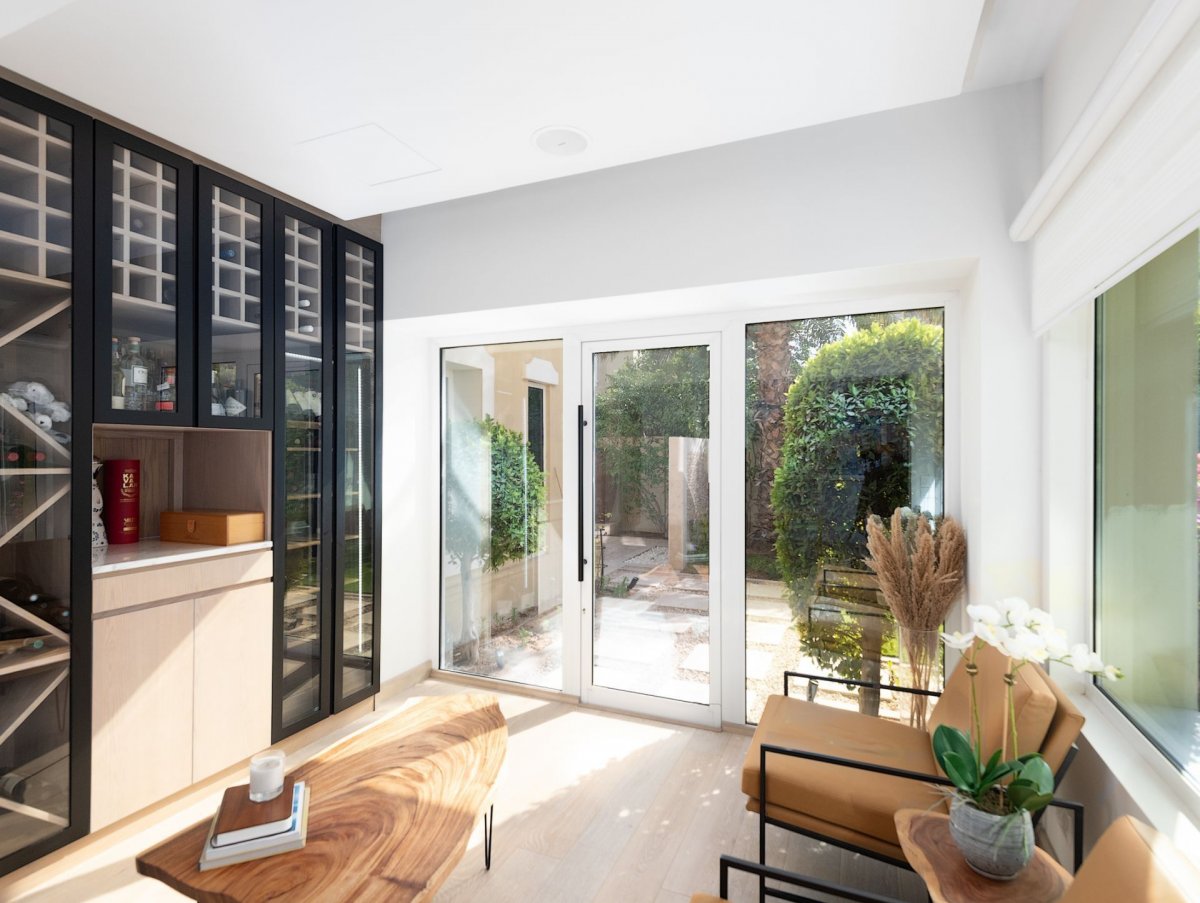 Our master bedroom features soothing whites and shades of grey, with a built-in wall unit. Kristina came up with a brilliant idea to close off a bathroom door and extending the walk-in so I could have a much larger closet. As a result, there is a vanity area, and the walk in is functional, has plenty of storage, and is well illuminated. We completely renovated the bathroom as well with a monochrome scheme, complete with matte black fittings, a rain shower and bench.
While I cannot pick my favourite place in the house, I thoroughly enjoy the outdoor space as it truly is an extension of our home. We spend so much time there with our daughter, swimming in the pool, playing in the garden, teaching her to grow herbs and tomatoes in our little vegetable patch. We have made this home a place of comfort and refuge – where we relax and get away from the hustle and bustle of daily life.

Update (May '22): This property is now sold.