The Lifestyle
The Escape: Papaya Playa Project
A retreat perfect for last-minute summer plans
Words by Aneesha Rai in The Lifestyle · Aug 22nd, 2022
Surrounded by tropical greenery, Papaya Playa Project is a stunning beach club destination you need to go to enjoy summer in Tulum, Mexico. Designed by Emilio Heredia, the beach club is designed with a connection to nature and spirit in mind.
Situated along the Carribean coast, Papaya Playa Project offers you an ecological retreat amidst lush green; thereby providing you an avenue of complete and total relaxation. A result of a collaboration between Design Hotels and Emilio Heredia, the resort hosts a hundred rooms, some villas and a treehouse for their guests. With a nod to nature, effort has been made to preserve 93% of the land as the original jungle.
Offering a barefoot luxury concept, most popular in the Maldives, Papaya Playa Project also offers a space that's almost communal in nature; one that encourages collaborative thinking. The Papaya Playa Project aspires to create a space that appeals to members of the creative community, while also helping those who yearn for an original, unmediated experience in nature. For example, guests can enjoy the Project's amphitheater on the beach in order to share ideas, perform readings, or listen to lectures together. A true collaborative space seething with inspiration for today's global nomads - the resort also hosts many celebrity DJs, full moon celebrations, yoga retreats and more.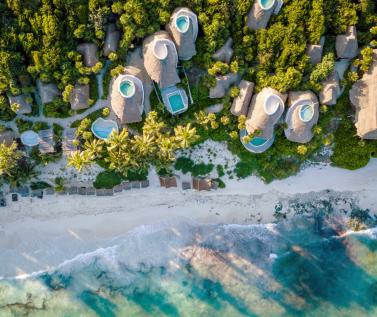 Not only does the resort cater to those that enjoy luxury and the creative; it's rustic design further enhances its synchronicity with nature. Authentic cabañas invite guests to begin their free-spirited vacation by connecting to nature. The privacy of these units allows travelers to disconnect from daily schedules and absorb the energy of Tulum's stunning beauty. From floor-to-ceiling windows that open up to private decks overlooking jungles, pools and the oceanfront, the rooms encourage residents to soak in the warmth of the elements, both physically and mentally.
The separation between man and nature diminishes in these rustic spaces and the absence of electrical outlets becomes a welcome reminder to truly unplug. The ultimate luxury in most of the cabanas is the private porch, where hammocks swing guests in sync with the breeze.
One of the resort's strongest selling points for me (beyond of course, its sheer beauty) are the initiatives that it runs. The hotel has collaborated with the communities, makes sure it uses minimal waste, and takes care of the ecological balance by hosting a turtle hatching program. In terms of architecture, ancestral techniques like chukum have been used so as to keep areas cool. Produce for the dining concepts is sourced locally as possible.
Images and information courtesy: Design Hotels