Design & Architecture
The Space: Dubai World Trade Centre
We take a deep dive into Dubai's first skyscraper
Words by Aneesha Rai in Design & Architecture · Sep 11th, 2023
Back in the 1970s, when Sheikh Zayed Road was devoid of its numerous skyscrapers, stood the Dubai World Trade Center. Built in 1979, it was designed by John R Harris and Partners (JRHP). We track the evolution of the tower and its space in modern Dubai.
When the Dubai World Trade Centre was constructed, it represented a bold step towards the future when it was built. In a city known for its relentless pursuit of architectural marvels, the then named 'Sheikh Rashid Tower' was among the earliest skyscrapers to pierce Dubai's skies. The tower's inauguration by Queen Elizabeth II on February 26, 1979, was a momentous occasion, underlining its importance not just locally but also globally. It was the tallest building in the Arab world until the completion of the Burj Al Arab almost 20 years later.

According to multiple sources, John Harris was keen to build a Twin Tower Trade Center similar to that of New York, but the land Sheikh Rashid wanted to allocate for the project was too small; and so the plan was redesigned into a single tower. Sheikh Rashid's proposal to build the 39-storey tower block reportedly generated a flood of criticism, that it was "Too far from town", "Not commercially viable", "Over ambitious" and "An exercise in futility". One can't hope but wonder what they think of it now.
The tower was renamed the Dubai World Trade Centre the passing of Sheikh Rashid Bin Saeed Al Maktoum, the visionary ruler who played a pivotal role in Dubai's transformation. This change in nomenclature was not just symbolic; it signified the enduring legacy of a leader who had envisioned Dubai's rise on the global stage.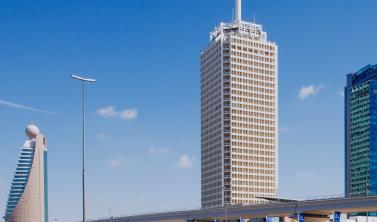 Evolution
The Dubai World Trade Centre has evolved significantly over the years. Today, it stands as a sprawling complex that encompasses not only the iconic tower but also numerous other facilities, including Exhibition Halls, Sheikh Rashid Hall, Maktoum Hall, Al Mulaqua Ballroom, Sheikh Saeed Halls, Za'abeel Halls, and the Trade Centre Arena. The addition of these world-class facilities transformed the DWTC into a multifaceted venue that can host a wide range of events and exhibitions. It has become a hub for international conferences, trade shows, concerts, and cultural events, contributing immensely to Dubai's reputation as a global business and cultural center.

Beyond the exhibition and event spaces, commercial buildings like the Convention Tower and the One Central development have been seamlessly integrated into the DWTC complex. These additions have further solidified its status as a vibrant and dynamic business district.
The year 2020 presented an unprecedented challenge to the world, the COVID-19 pandemic. In a remarkable display of adaptability and commitment to the community, the DWTC was converted into a field hospital and Randox laboratories. This transformation provided essential medical support during a critical time, with a capacity to treat up to 3,000 COVID-19 patients.
As Dubai continues to evolve as a global business hub, the DWTC has kept pace with the city's forward-looking vision. In December 2021, it announced a groundbreaking move by becoming a comprehensive zone and regulator of cryptocurrencies, products, operators, and exchanges. Subsequently, a cooperation agreement with cryptocurrency exchange Binance was announced, paving the way for an international virtual asset ecosystem.