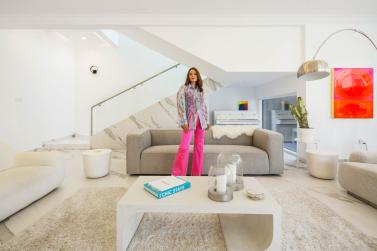 A duality of clean minimalism and high octane colour brings balance to the British artist's residence
Words by Laura Cherrie Beaney in Design & Architecture · May 11th, 2022
Nat Bowen is known for her highly saturated abstract artworks, comprised of layers of resin. Her aesthetic is informed by chromology, the psychology behind colour. For Nat, the process of painting induces a meditative state, one that she invites her audience to enter. It's art that evokes a physical and emotional response from the viewer, layers of resin form glossy orbs that resemble the glowing light observed during meditation, a vortex, or the underwater abyss.
Nat's bold output extends life into her serene Jumeirah abode which doubles as her studio. She has afforded the clean-lined, contemporary setting with calming, muted tones. Mid-century sensibilities, tactile play between textures, and a sumptuous material palette contribute to a timeless environment. We join Nat at home to discover her journey in art and design.
Nat: An opportunity came up for my husband and I to relocate to Dubai from London. We are free-spirited and love the sun so it was an easy transition. Dubai is a melting pot of talent and innovation - it's an exciting place to be at the moment, especially as a creative.
Nat: I come from a family of creatives - my parents are teachers in graphics and design technology. As a child, I was introduced to design processes, materials and mediums. I was given the freedom to express myself creatively and I was always messy, making things, painting, drawing or sewing. As an adult, I've had no fear in developing my own sense of style and taste.
Nat: I moved to London to study fashion design at the London College of Fashion. My appreciation of colour and texture came from my university days. I would experiment with cloth and drape different fabrics around mannequins. After graduating I worked as a fashion designer and then as a model - I learned a lot through exposure to creatives in the fashion world.
Nat: Now, I'm an abstract artist known for my vibrant, multi-layered resin artworks. My work is based around chromology - the psychology of colour and the emotional and physical impact that it has. Colour can alter one's state of mind. We are all aware of the positive effect that sunlight has on our well-being, colour can have a similar impact much like a beautiful piece of music.
Nat: I draw inspiration from everywhere but travel has been a huge influence. I find it fascinating that colours are used for various purposes in different cultures.
Nat: I've been fortunate enough to have visited many countries. I hold the French Riviera close to my heart and visit it at least once a year. I can see why many artists such as Picasso, Matisse and Van Gogh chose to spend periods of time there painting. There's something magical about the light. I often stay in Port Grimaud which was created in the 1960s by architect François Spoerry. The houses are different colours looking out onto the water and the area has a retro charm.

Nat: I'm also influenced by the colour field movement that became prominent in the 1950s and 1960s with artists such as Mark Rothko and Ellsworth Kelly at the forefront, painting large expanses of colour in abstract forms.
Nat: I paint with epoxy resin. The high lustre of the resin brings colours to life in a way that no other medium seems to. It's challenging to work with; my studio conditions are highly controlled to cure the resin correctly. It's taken a lot of practice but I am now at a point where I respect the medium and its capabilities - it has become second nature.
Nat: My practice and production are slow. Artworks can take months. I maintain a meditative state when I paint, it's an act of mindfulness which draws me into the now. I encourage the viewer to adopt the same mental state - take time to be present, allow the colour and form to have an impact on mind and body.
Nat: Black Diamond was my first artwork that took the exploration of pigments to another level. Before I had only worked with synthetic pigments but for this piece, I sourced 1000 carats of crushed natural black diamond and 4.6 billion-year-old meteorite dust which I set within 100 layers of resin. It is a very special piece which took around 7 months to create and was acquired by a Dubai-based private collector. Another work, Pink Diamond, combines pink diamond and rose petal pigments. I've used rare pigments such as the purest Lapis Lazuli from Afghanistan, powder from the volcanic region in Iceland and Han Blue used in ancient and imperial China in other works.

Nat: I live with my husband in our six-bedroom villa in Jumeirah 3, just one minute away from the beach! I start each day with a dip in the sea - it's good for the soul. We moved in towards the end of 2021 but it already feels like home. We enjoy incredible 360-degree views of Dubai from our roof terrace which overlooks the Burj Al Arab, Burj Khalifa and the sea. We hosted a party on New Year's Eve last year - it was the perfect spot to catch the fireworks.
Nat: The villa is stark with clean lines and sharp angles. It was important to soften it by bringing in furniture and objects with curved lines that are textured and tactile. The colour comes from the artwork! I use the villa as a showroom for my art as such it acts as a revolving gallery, as the pieces on the wall get acquired, new artworks are hung.
Nat: I like a clean, contemporary aesthetic but with a mid-century twist. Much of the furniture has a slightly retro feel to it. The furniture palette is either white or neutral with a focus on texture. The living room features bouclé sofas and a cement coffee table while high gloss Panton chairs and a large lacquered table characterise the dining area. In the bedroom, an emperor size acacia wood bed is accompanied by an abundance of pillows to sink into and a cosy textured rug.
Nat: Neutral interiors allow the colours in my artworks to come forward, much like a gallery setting. There's often music playing around the house and we carefully chose bespoke interior scents for each room to cultivate a sensory experience.
Nat: The only large item I brought over from London was my white Yamaha piano. I started playing when I was 4 years old, there was always a piano in the family home. I like to sit and play to relax my mind - music brings joy and warmth to the home.
Nat: We use different zones in the house in different ways. The ground floor is open plan with large glass doors extending into the garden and pool beyond. It's where we entertain. On the first floor, there's another living space that feels so zen - I'm in the process of curating a home library here. The master bedroom is on the third floor and is bright and airy, the doors lead onto the terrace with sea views.
Nat: We love being outdoors and have a garden and three large terraces. I used Dubai-based, Adams Furniture, to customise outdoor seating. Bougainvillea adds splashes of hot pink. I'm also working on a colourful resin art piece for the garden.
Credits: Creative direction by Aneesha Rai