Design House: Saad Umerani's Business Bay Abode
The F&B entrepreneur invites us into his New York-style apartment
Words by Laura Beaney in Design & Architecture · Sep 16th, 2021
In his youth serial entrepreneur, Saad Umerani would Google the homes of pop culture heroes from Batman to Bond. Today, his newly finished Business Bay address echoes the timeless design sensibilities of these icons. His studio, punctuated with elegant modernist furniture and eclectic accent details, gives way to a panoramic full glass facade that reveals the dynamic Dubai skyline. With the understanding that home must be a retreat away from life's chaos, Saad has crafted a gentleman's abode that straddles minimalism and comfort. He invites us into his sweeping studio, the space where he absorbs philosophy and physics, bonds with friends over artisanal coffee and attends to his multiple business ventures.
Saad: I moved through several professional incarnations before finding my passion as an entrepreneur. My family and I left Karachi for Dubai when I was 14 years old and later I pursued my undergraduate degree in Mechanical Engineering at McMaster University Canada. Upon graduation, I quickly realised that engineering was not my thing so I forged a career in Investment Banking in Abu Dhabi. I then focused upon the technology sector, establishing fintech for banks under my family business ValuStart. From there I founded venture capital firm, Enabling Future which has 23 investments, globally.
Saad: By 2015, with the rise of increasingly busy yet conscious lifestyles, I identified a huge gap in the healthy snacking space. That's when I established Protein Bakeshop and my journey into entrepreneurship and F&B began. We grew PBS to 10 countries within just two years. Later, I went on to cofound two other awesome F&B companies: small-batch bakery, Mélange, and recyclable mineral water, Nüwater. These businesses are my outlet so when I'm going through a rough patch I tend to excel at my work.
Saad: I love reading - I've recently started enjoying philosophy, psychology, and physics. Whenever I have the time, I pick up a book and make myself a coffee. My inspiration is drawn from the most unusual and random places. Technology, design and food are three major passions that manifest in everything that I do.
Saad: I moved into my Business Bay home in February 2021. I discovered the space when it was shell and core and fell in love with it. What drew me to it is something that I've always wanted – a full glass façade and a completely open space without any structural disruption. It took me four months to fit out, I couldn't go crazy with the design because I don't own the place and the apartment had to match the aesthetic of the building but I had the option to make it a one-bedroom apartment or a studio. I love the New York style of living so chose to make it a studio. So many of us use our living spaces to just sleep and eat – I wanted to make the most of my environment and use all of it, all the time.
Saad: My home is my safe place away from the world and its troubles, it's where I recharge and reset. The life of an entrepreneur can be extremely taxing so it's important to feel happy in your base after a long day; it should be a space that inspires and that one looks forward to coming back to. Home is something I never think twice about investing in. Some people love to spend on watches, cars, and travel, I spend on my home and my businesses.
Saad: I've been enamoured by clean design and minimalism since my youth, sensibilities that I credit to my father. I just admit, have OCD when it comes to my living space! I like it to be neat and clean - cups have to be kept on coasters and both must be aligned!
Saad: My notions of the home have also been shaped by pop culture, particularly Bruce Wayne, Tony Stark and James Bond. I'm a huge fan of all three and used to Google their residences! I also love the architectural styles found in Bali and the integration of plant life into the living space - there is a touch of that in the plants and flowers I introduced into my apartment.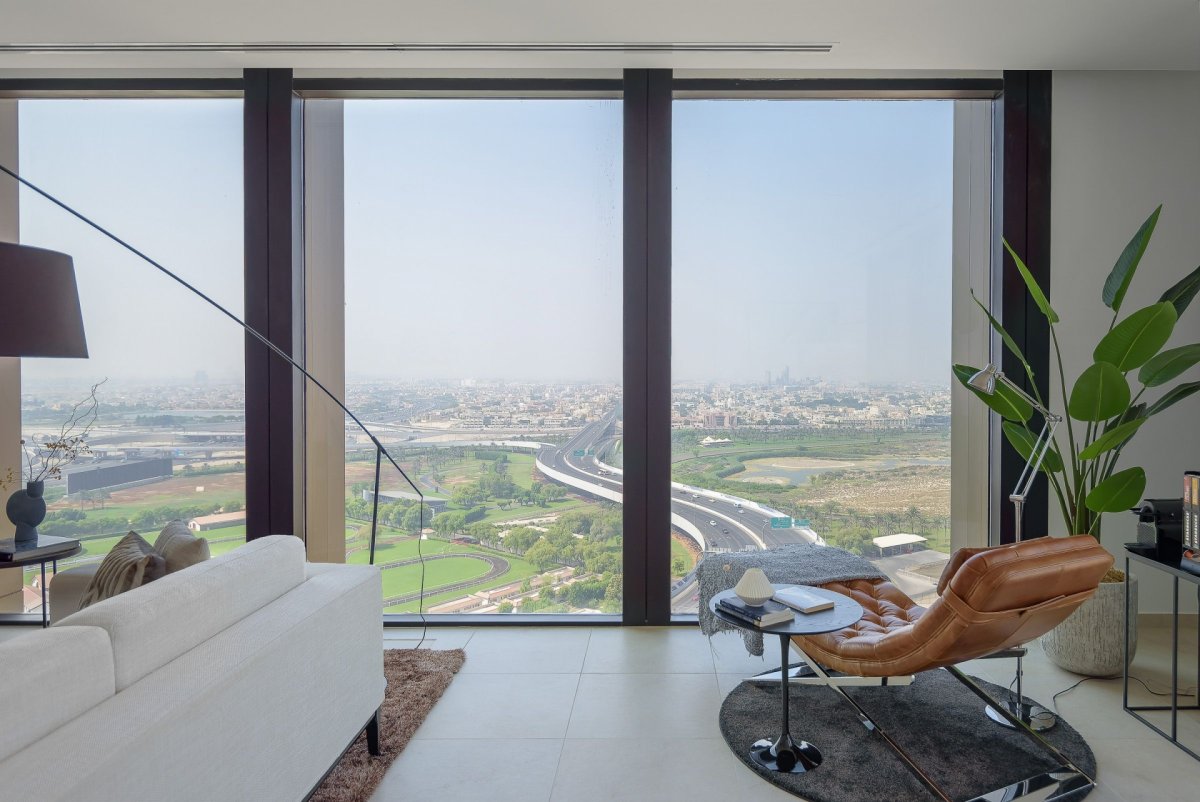 Saad: I'm not sure you can classify my interior aesthetic as one particular style – it's actually an amalgamation of two very opposite ones. I love minimalism but also a homey feeling. This radiates from the cosy corners I've created - the spot where I retreat to sip coffee and read a book and the peaceful place where I get some work done on my laptop.
Saad: I sourced my furniture and accent details from random places, some stayed with me, transferred from my previous apartment, while new inclusions came from 101 Copenhagen, Custom no.9, Bo concept and Zara home. The brown leather armchair, side tables and lamp have the streamlined silhouette and mid-century influence that I appreciate. Vases, coffee table books, flowers and small objects of beauty bring balance and personality. Lamps are another important addition - they set the mood for the evening. Initially, my house was very minimal, but then Nadia, my friend and the co-founder of Mélange came in and helped me with soft styling. She said: "Your house needs to feel like home" and now it does!
Saad: I prefer to meet friends and family at home rather than in coffee shops. I invested in a proper, manual coffee machine to make delicious coffees at home. Engaging with friends at home is more relaxing and I find that you connect with people on a deeper, more authentic level when you invite them into your space. While I haven't lived here for long, I would say that the best memories in the apartment so far have revolved around relaxation in the morning. I sit by the window in the corner and get lost in a book whilst sipping a cup of coffee. It's something very simple that brings me a lot of joy.
Saad: When I need some downtime there are a few cafes in Dubai that I frequent, book in hand. I like my alone time, which I rarely find, so when I do I make the most of it. I enjoy street food and a good burger, anything low key!
Saad: My dream Dubai address? This Al Barari villa. I really appreciate the thoughtful detail, the greenery and the landscaping as well as the incorporation of the outside indoors with the striking addition of a tree at the centre.