The Lifestyle
Let them eat cake
We speak to the founder Nadia Parekh on conceptualizing & designing the UAE's first cake studio.
Words by Aneesha Rai in The Lifestyle · Feb 22nd, 2021
If you are Instagram savvy and into contemporary design aesthetics (and cake), you need to know about Melange and its co-founder, Nadia Parekh. Melange is a small-batch artisan bakery specialized in desserts & bespoke cakes that has good design front and centre of everything it does. Its cake studio in Business Bay is a space that exudes cool industrial design and is a perfect headquarters for Nadia and her team to focus on one thing - baking their iconic cakes & desserts.
We chat to Nadia about her aesthetic and approach to designing the Melange brand, quarantine cakes, and her favorite design spots in Dubai.
Q: Tell us about the founding of the Melange brand.
Nadia: I founded the company four and a half years ago, and ever since then I've kind of just been building the brand, the following on social media, the aesthetic, and the design behind the brand. When I initially started, I didn't know off the top of my head that this is exactly what I want to do in terms of branding. I knew I wanted something exclusive - over time I decided I wanted a splash to be part of the icon and a minimalist setting. About four to four and a half years ago I was also quite young and developing my own aesthetic as a person - and so my approach to design was as a person; not a business, which makes it a very personal brand. There was a lot of trial and error involved.
When I started out, I created an Instagram account and a blog where I basically built my portfolio of images and work. Melange was just not about cakes - it was travel, it was restaurants, it was coffee, it was my work in the kitchen. So it's only in the last, I would say, two years that I really didn't focus on exactly what Melange was all about and what our niche was, which is cakes. So it was two years of trial and error to really just figure out the direction I wanted to take it. I've done workshops, consulting, catering, dessert tables, and mini dessert cakes as well. And then the very last thing I did was bespoke cakes. And that I think that is really what put Melange on the map. I think it was the right time to start it as well, because had I started any earlier, I wouldn't have built any aesthetic or design for myself or the brand. So as soon as I started recognizing the brand and I had built an icon for it, which is like these layers of splashes, truly a mélange. It's a very sort of minimal industrial chic design. And I think that the cakes sort of reflect that as well. So I think everything really fit in together and I think that's what really clicked with everyone that was following the launch for so long. It finally felt like it had a direction. And I think that once you have that in place, then you can really scale up the business.
Q: What are your design influences and how do you define your personal aesthetic?
Nadia: I think my personal aesthetic is very, very similar to what our our studio, cakes and packaging are all about. I don't know if I had any influence as such; it was just personal things that I really like and I wanted to just stay true to the name as well. Melange means the perfect balance or the perfect blend.
When I created the icon, which is the full stop of our logo - I really liked the turquoise we used. I wanted to keep it somewhat gender neutral. I didn't want to do something too pink or too purple or do something to blue or black or gray. So we did the logo with a typewriter font and a full stop, which is just a splash, but it's such a complicated splash! You'd think it's super simple and it's this tiny thing at full stop at the end of our logo. But the graphic design I was working with, it was just draft after draft and I couldn't quite get that exact color - that turquoise color that you get by layering lots of green splotches. But again, true to the name, it is that melange of merging, of the splashes that we finally we're happy about. I was a one woman show when I created it.
I think that the logo actually goes for all the cakes as well, like the design that we do on the cake. Especially texture - I love to play with texture, so layering textures on top of the cake and making sure that it's like this blend of colors that is just right. It it really shines through in our work as well, I think. Not just in terms of aesthetic, but also in flavors.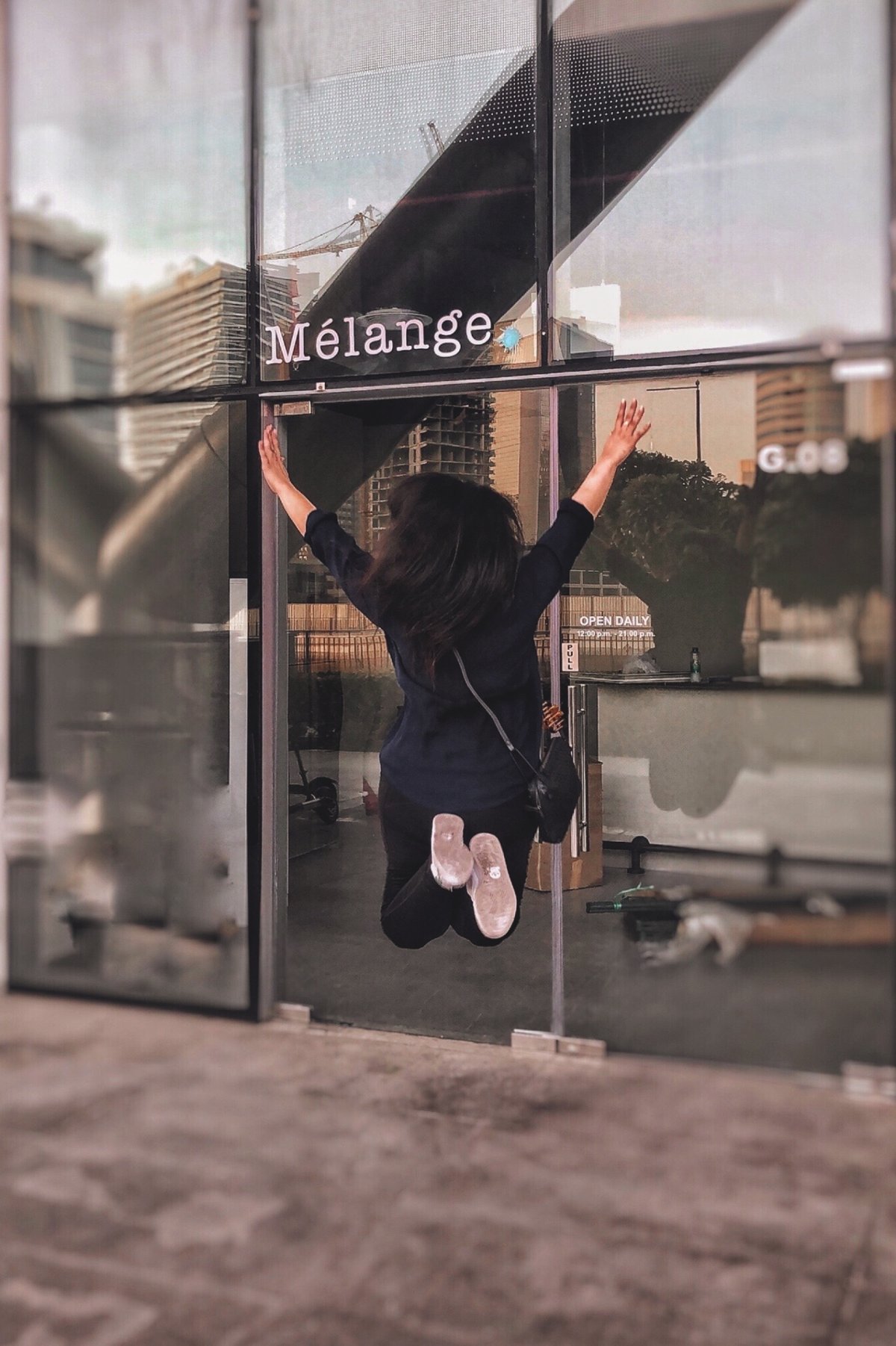 Q: How involved were you in the design of the cake studio?
Nadia: Oh, completely! It's only been in the last three to five months that I've added on to my team. It was mainly Esha (marketing manager at Melange) and I doing up the studio. Honestly, our business model is not a cafe model. We are very much an online shop. I'm all for practicality first - we were actually looking for a kitchen space so we could produce out of and a studio we could do our bespoke cakes out of. I wasn't really looking for a good cafe location - but this is a bonus! We managed to actually have some room in the front to do up a little counter.
But when it comes to staying true to the brand and what we stand for in our ethos, which is freshly baked cakes, cookies and desserts - nothing is frozen, nothing is old, everything is fresh. And we really, really do our best to stay true to that. The thing is that I wanted this sort of workshop vibe in our studio. So I've added very raw shelving, industrial shelving, and we have all our packaging and boxes with all our cake tins lined up there with our cake design tools and all that kind of stuff. I wanted that vibe, you know. We have added a bunch of plants to add a bit of life to it and just this very concrete sort of counter in which we've just put a coffee machine and some very, like, edgy, gold sprayed, dried flowers. Everything is freshly made as soon as it runs out on display.
So the idea is very much like looking straight from our oven to the box or plate that you receive or eat it in. And we want it to stay true to that. We wanted that concept to come through also in the interiors. So this is also part of the aesthetic. It's part of what we wanted in the design for the cake shop. We wanted these industrial shelves, skeleton trolleys and trays with the sponge cakes that haven't been assembled yet. We also have the back counter where we are actually physically assembling all the cakes that you see on display. It's nice because the customer can actually come in and walk in and say, look, this is this is all that going into it -they're making it at back, assembling it out front, and it goes straight from there to this chiller or on display. We wanted everything to be sort of raw and minimalistic and industrial and hence the concrete and the edginess with the the gold's dried palms. I'm very happy with how the plans came through.
Q: During the lockdown, you came up with a 'quarantine cake'. Tell us about that.
Nadia: It was a bakery in San Francisco called 'Butter&' that actually started quarantine cakes. The whole concept of quarantine cakes and and a lot of bakeries all over the world followed. And we were, of course, one of them, because when you wake up with a string of canceled bespoke orders for the whole month it's a bit worrying. How are you going to make ends meet? At that point we didn't have any small cakes. We only were doing bespoke cakes and it was just me then. We decided then to launch smaller cakes online and call them "Quarantine cakes". We came up with our own design for it - a concrete cake with a gold splatter and made it unique to us and our brand. We were the first ones to actually get it online and start to execute it quickly. And I think that's why it really took off. It was good timing. People were eating their feelings. It's a very indulgent cake. We got a lot of people sending it to other people, you know - friends and loved ones because they couldn't see them. We added these funny things written on top like "wash your hands". So, yeah, it it worked. It was a bit of humor to your day and to satisfy that craving of coffee and cake. I feel like a lot of people in this region like coffee and like having going out for a coffee and I think missed those things. So I think it did really well in that regard as well.
Q: What are your favorite design spots in Dubai?
Nadia: I love Al Serkal Avenue - I think that I love it because it's very similar to what we stand for, you know; it's their workshops and studios and everything is very raw and real and industrial. And I really like that style. I also love OKA Ceramics, you can see everyone working away as you enter. There's a studio at the back that's all glass. You can see what's going on and the molds they're making to actually make the cups that are then on display being sold. There's a flower shop right there. They're picking off the leaves and like trimming and putting it straight into the vases. And, you know, it's just I really like that. It feels like everything's up front, everything's honest, everything's in front of you. No one's trying to hide anything and I love that. Terra Eatery is modern, concrete and nature-oriented which I love. Goldbox, where we source our house blend from is also very raw and industrial in feel. There are these massive sacks of coffee that have just been like sacks of green beans that have just been imported. There's whole glass like glass separation behind which they roast all the beans. They have their machine there. Then you can sit and have a coffee, freshly roasted and straight from the machine. First and foremost, the coffee there is incredible because it's controlled by the baristas that actually roast the coffee there so it's not sold to another company. It's them, the people that are roasting and then bringing the coffee directly out and and serving you. A very cool place if you're into coffee.
The Making Of A Cake By Melange