Design House: A Jumeirah Golf Estates home
Inside Joanna's light-filled family villa overlooking the 10th green
Words by Sarah Gamboni in Design & Architecture · Mar 24th, 2023
From a blank canvas to a spectacular family home, Joanna Bloodworth and her husband enlisted Bani Singh of Grounded Design to bring their five-bedroom Jumeirah Golf Estates villa to life. Here, Joanna takes us through their light-filled home, filled with bespoke furniture and handpicked decor that strikes a delicate balance between luxurious and lived-in.
Joanna: Before moving here two years ago, my husband and I lived in an apartment on the Palm Jumeirah for 10 years. I'm Mediterranean so I've always loved being by the sea, and I'd previously lived in Cyprus and the UK and travelled extensively for work to Australia, Hong Kong, and India, but it came to a point where we needed to put down roots and we were attracted by the Jumeirah Golf Estates lifestyle.
As soon as we entered the Redwood Avenue villa, we were drawn to its sense of space, light, and sight lines. From the front door you can see straight through to the swimming pool and the 10th green of a world-class golf course, so my husband, who's a keen golfer, was immediately sold. He wakes up at 5.30am and plays for a couple of hours each morning before coming back home to continue his day.
When we bought the villa in 2021, it was a striking blank canvas. Our daughter is now nine months old, but at the time it was just the two of us, so we were conscious of building a home that could evolve with us. I'm from Cyprus and my husband is Swedish, and we both subscribe to the Swedish concept of 'lagom', which translates as 'not too much, not too little, just right'. So we wanted to achieve balance in the aesthetics as well as the functionality. We wanted it to be a place for entertaining as well as a cosy home that grows with our family, somewhere we could see ourselves staying for the next 10 to 20 years.
It's a very open, bright space, so one of the challenges was creating a sense of intimacy. We worked with Bani Singh, the founder of Grounded Design, to bring the interiors to life. There's a lot of psychology in what she does, in asking the right questions to really get a sense of our individual personalities. We worked together so closely over the year that we became close friends.
I'll never forget towards the end of the project when the house still felt a little bare, we were away on holiday and Bani said, "We're just going to go into the house to add a few pieces." We had 100 per cent trust in her, so we said of course that's fine, and we came back and she had finished all the decor and styling. It was incredible. She said, "Let me know if there's something you don't like," to which our response was, "Actually, you now know us so well on a personal level that everything is spot on." She really brought that warmth and lived-in feeling, right down to the coffee table books, which are a mix of fashion, technology and golfing titles.
One of the focal points of the villa is the ground-floor living room. We wanted it to be a functional space that we can use every day. So while it's beautifully finished with a marble fireplace and cream lounges, it's also a welcoming, flexible room that we use every evening as a family.
We've tried to keep the flow of the house as open as possible, but we also knew we needed some separation. Bani installed an ingenious revolving glass door between the living room and the kitchen that creates delineation while allowing the light to flow. We use this area as one big space when family and friends visit, but the door makes it more functional during everyday living.
Our kitchen is one of my favourite rooms because it's big enough to have as many people around as we want. The round dining table by Imperfetto Lab was the first thing we chose with Bani. We wanted to be able to fit enough people at the table without being forced to go into the dining room. With the wide kitchen benches and lounge seating overlooking the pool, we now entertain here 99 percent of the time.
There's so much space in this house, we also have the luxury of a formal dining area behind the kitchen. I love the 10-seat concrete dining table, which was designed by Grounded and custom-built. It feels so much more personal knowing you have a piece that's designed around you and what you need. The same can be said of the bespoke artworks, which Bani commissioned a local artist to create in a modern, monochromatic colour palette.
The striking light fittings were sourced from Flos, including the Michael Anastassiades Arrangements '2 Elements' light above the dining table, and Konstantin Grcic's statement-making Noctambule Suspension Cylinder chandelier, which fills the 7-metre-tall atrium at the entrance.
From here, a marble staircase leads to the first floor, where we have a nursery, guest room, office, and master bedroom. Located at the rear of the villa, the master bedroom is filled with sunlight from huge arched windows framing leafy trees and the fairway. It has a beautiful custom sofa facing the window, which is my favourite place to relax.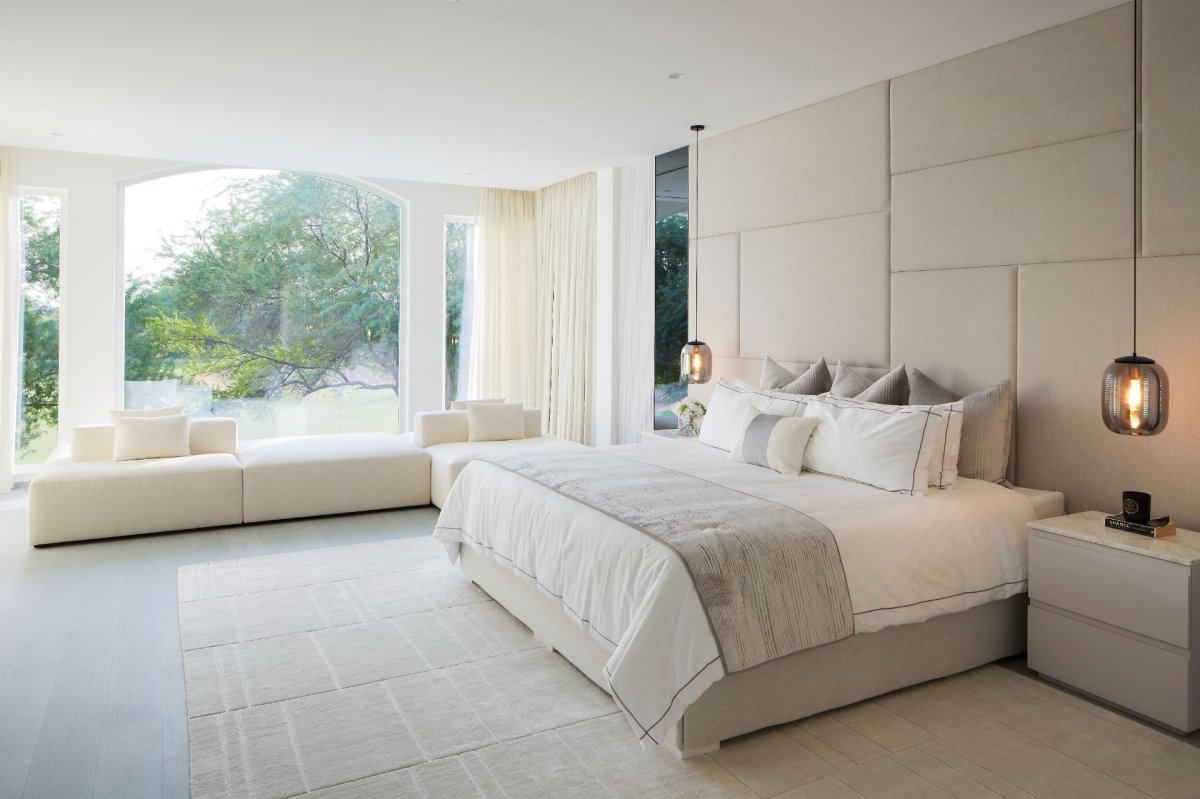 My husband's domain is the basement-level bar, which has a very different vibe from the rest of the home. It's a more adult space, with a darker colour palette, rustic stone, black marble, rich timbers, edgy neon artwork, and a backlit bar and wine cabinet. Bani was inspired by the stone wine cellars in an old chateau, and she's achieved that here in a refined, more modern way. It's the perfect place to entertain friends after dinner, maybe watch sports or a movie.
The olive trees dotted around the home and garden are a nod to my Cypriot roots. It's just another way Bani has created a beautiful balance between our Mediterranean and Scandinavian backgrounds. She has captured that very organically and naturally. The energy I get walking through the front door is just incredible. And that's what you should get when you come into your own home.
Photography unless specified by Ana Zaha for LUXHABITAT Sotheby's.