Design & Architecture
Design House: Inside Keturah Reserve
We step into Keturah Reserve, Dubai's Innovative Luxury Residential Development Embracing Bio Living
Words by Laura Cherry in Design & Architecture · Jul 18th, 2023
Straddling ultra-luxury, sustainability and well-being, Keturah Reserve is a first for the MENA region. The AED 3 billion residential development nestled in Meydan, Dubai's coveted residential district, promises to redefine our relationship with our home. It's a setting that immerses residents in nature while offering a direct link to Downtown Dubai, balancing serenity with convenience and accessibility. Keturah's architectural design seamlessly fuses with the surrounding desert landscape, following the principles of Biophilic Design to enhance the occupants' physical, mental, and emotional well-being. Through eco-features and sustainable practices, this visionary project creates a sense of community and promotes a healthier, connected lifestyle. The future of architecture and our relationship with nature is being reshaped by Keturah Reserve's revolutionary approach, catering to discerning individuals and families seeking a balanced and enriched way of life.
Now, Talal Moafaq AlGaddah the founder and CEO of Keturah takes us on a tour of this ambitious project.
Talal: Keturah Reserve is an AED 3 billion innovative new luxury residential development located in Meydan, one of Dubai's most sought-after residential areas. The project offers transformational living through the design of space and is the first residential development in the Middle East to immerse residents in nature through the 'Bio Living' concept. It's also the only residential development in Dubai with a direct nine-minute link to Downtown, with four separate exits onto the city's main roads: Sheikh Zayed Road, Al Khail Road, Dubai Al Ain Road, and Al Meydan Road.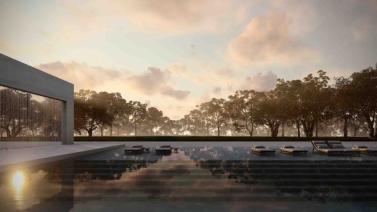 Incorporating eco-features within our development plays a crucial role in enhancing the overall well-being of our community. By merging nature with architecture, we design living spaces that offer a transformative lifestyle experience. Integrating nature into living spaces can promote healthier lifestyles and encourage residents to connect deeply with their natural surroundings. Ultimately, the employability of sustainable concepts encompassing energy-efficient designs helps reduce the ecological footprint and creates a sense of community among property buyers who share a common commitment to sustainability.
For Keturah Reserve, we applied myriad design concepts, including Bio Living — rooted in Biophilic Design — conceived to incorporate nature into the built environment to improve the occupants' physical, mental, and emotional health. Bio Living creates the perfect synergy between interior design, architecture, and landscape while remaining in complete respect of the surrounding ecosystem.
I believe that Bio Living is set to shape the future of architecture by redefining our relationship with our living space and nature. To that end, we considered the effects of urbanisation and technological advancements that disconnected us from nature; thus, this revolutionary concept is an optimal solution that will aid in reestablishing the essential elements associated with residents' well-being. Eventually, this strategic approach will become instrumental in the development process as property consumers seek homes that profoundly enhance their lifestyles.
Our Reserve SuperHomes are, for example, uniquely represented through the Golden Mean principle of proportion and ratio to create harmony in space. Both interiors and architecture are crafted from the same raw materials and colours to subtly merge the exterior with the surrounding desert landscape. The restrained colour palette of bleached bone, champagne, and bronze further emphasises their natural inspiration, with lush elements visible from every vista, including olive trees, palm trees, green walls, balcony planters, and rooftop gardens.
Our homes are brought to life with double-volume interior spaces, increasing the flow and circulation of naturally cooled air. Open-plan spaces without corridors or hallways optimise flow, and furniture and fixtures are custom-designed and produced for each space, blending perfectly into the internal ecosystem while freeing the flow of movement and elevating the resident's physical and mental well-being.
We expect to draw a discerning clientele that place high importance on health, well-being, and luxury in their lifestyle choices. This group comprises successful professionals, entrepreneurs, and business leaders who appreciate a sustainable and balanced way of living. We also anticipate interest from families seeking to establish a nurturing and dynamic environment for their children. With the unique blend of wellness, luxury, and transformational living that Keturah Reserve presents, we deeply understand that our potential wealthy home-buyers and end users are not merely searching for a home; they are looking to invest in an enriched lifestyle and a vibrant community experience.
Keturah Reserve is conceived to create a thriving and harmonious community with communal spaces such as The Park, the outdoor pool, women's and men's gyms and spas. The Park is the focal point of Keturah Reserve, a place to recharge and socialise, open 24 hours a day. Shaded by olive trees sourced throughout the world, The Park is for pedestrians of all ages, with Japanese foot massage mats, open-air meditation, and exercise zones.

Amenities include a creche, an educational daycare centre, summer camps, Montessori classes, a music and dance academy, an outdoor splash pool and play areas, a kids' spa, a Bio Living Farm, an indoor gym, and an activity centre.
Our amenities are easily accessed on foot through cool, tree-shaded pathways. Just as with the architecture, activities such as the Pilates Studio, WaterBike pool, Silk Rope classes, rooftop meditation and yoga space are all designed to develop and strengthen the body's core from the inside out. The Kids' Zone is designed for mindful educational play activities tailored to all age groups, from babies to toddlers, preschool to school-going children, and pre-teens to teens.
Our vision was to create a space where residents can connect with themselves, their families, and all aspects of life while respecting the surrounding ecosystem. Our aim was to create something of authentic value that would last for future generations.