How Natalia Shoestova & Gosha are changing the way we think about flowers.
Words by Aneesha Rai in The Lifestyle · Jun 22nd, 2021
If you're looking for Dubai's most urban floral atelier - then look no further than goshà. We sit with the founder & fashionista Natalia Shoestova & floral artist Gurgen Yeritsyan 'Gosha' to talk about why they do flowers differently and how it's catching waves in Dubai.
Q: Why start a floral studio?
Natalia: Flowers form a very dominating aspect of my life at home - I love them. I loved buying them and them arranging them in a different way at my home. It's how I met Gosha - he used to be a head florist downstairs at a shop in the same building I live at. Every time I would enter this shop, I used to feel like I was in heaven. I know I'm not exactly the easiest person to deal with, I know exactly what I want and am difficult to convince if I don't want something. I also realised that Gosha was always very good at meeting the challenges I presented to him. We also speak the same language and from the ex-USSR and now we're a mafia! He would also treat me with flowers from time to time because he realized I have a strong social media presence. He would always send me floral interpretations of something that he would never send anyone else, because he knew I would understand it.
When it comes to starting a floral studio, I had zero experience with the same. Around 6 months down the line, we did a lot of back and forth with my husband who insisted that the business had nothing to do with our specialties and expertise. Then in February last year, my dad unexpectedly passed away. When I came in the door after the funeral, the floor in my apartment was flooded with flowers from every friend, colleague and brand. Every possible florist in Dubai was in my house that day. It was a mass of colors that gaped at me...and yet, because I was grieving and my state of mind, I couldn't connect with any of them. The only flower that stood out was a black orchid in a small vase sent by Gosha. It was the only one that I could see. The rest, as they say is history. When it came to the name, I wanted something atypical and connected with fashion. In line with that, I wanted it to have the name of the designer who creates the pieces. And that's how Gosha became...Goshà. We added the accent at the end to give it a little French touch. We have received amazing support, it's been very overwhelming. We have also received requests to open another Goshà worldwide from top cities. We are opening our second studio this week in Abu Dhabi at the The Edition Hotel.
Gosha: We also wanted to have a flower school.
Natalia: We wanted to teach people to love flowers the way we love them. We love to work with flowers with the right cut, freshness, and the availability on the market, which is why no Gosha bouquet is the same. It is impossible to recreate. We like to put people in a scenario where they can arrange their own bouquets with flowers available from the market and add their own touch. This has not been explored before that much and we wanted to bring that to the market.
Q: Gosha, how did you get into floral artistry?
Gosha: From my grandmother. After finishing school in Yerevan, Armenia, I used to spend a lot of time at my grandmother's flower shop and learnt a lot about flowers then. After completing university in Moscow, I opened up my own flower business before moving to Dubai.
At the studio, people often come and tell me our flowers last a long time because I pour my energy into them. Our flowers last up to a week to 10 days. It's like cooking, it's something you give your energy to and that impacts your meal.
Q: How do you work in sync?
Natalia: Gosha is the technical expert when it comes to knowing and understanding the flowers, creating the concept and execution of the vision. I focuses on more on the vision of the brand and establishing clients as well as the artistic curation. We operate with honesty - I can always tell Gosha if I don't like anything. He understands that and it enables me to push him to do his best interpretation. Our expression is not for everyone - we design according to need and the floral options available. We consider ourselves an atelier - we are not a flower shop. We love to invite everyone to come create and express with us.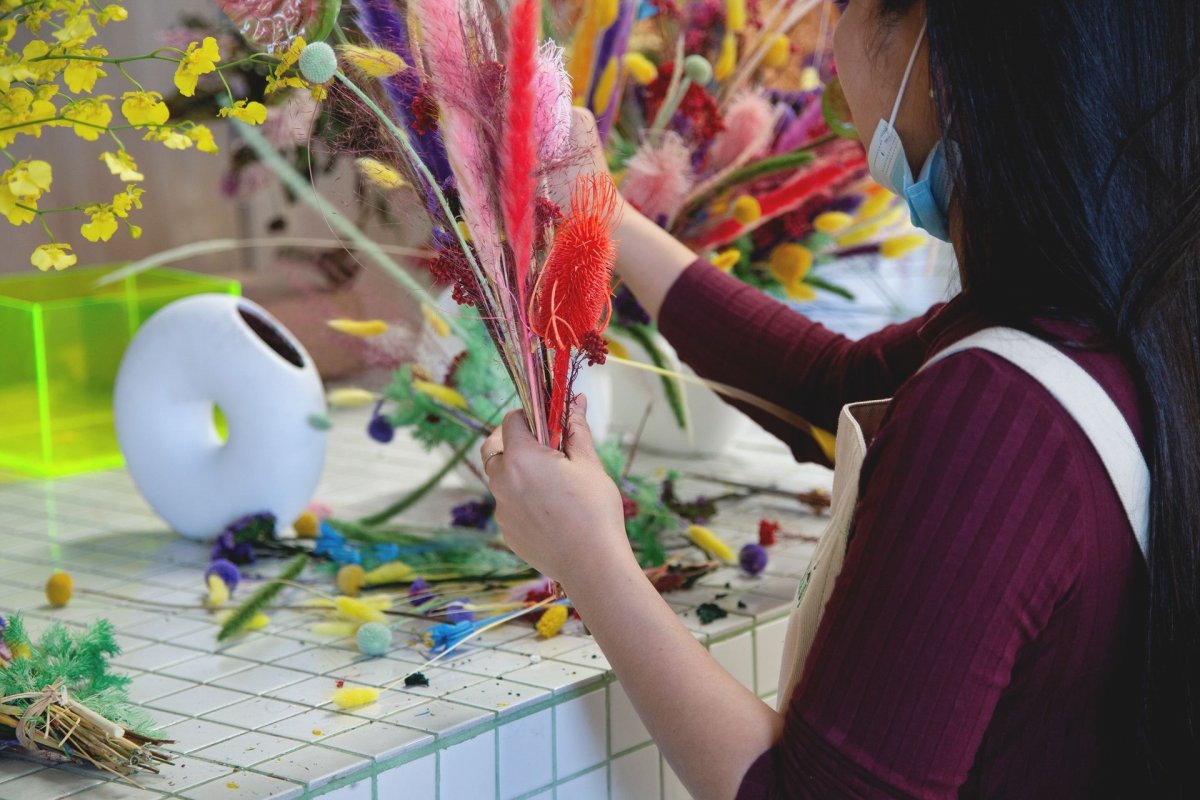 Q: What's next for Gosha Studio?
Natalia: Well, first we are opening in Abu Dhabi. Besides this, we are also aiming to create our own line of ceramics. We currently source our own ceramics but we want to support local talented artists and are working on that. We are also looking into expanding into indoor plants. We are also working with some lovely fashion brands. As life comes back to normal, we are also looking to expand into events. We're here to stay.