Design & Architecture
In The Studio: Stella + the Stars
Interior designer Emilie Jacob invests Dubai's homes with her own brand of playful vibrance
Words by Laura Cherry in Design & Architecture · Jul 25th, 2023
We step into the studio of Emilie Jacob the founder of Dubai-based interior design house, Stella + the Stars. A career in medical reporting and a life-changing maternity break led Emilie to her passion for interior design. Stella + the Stars began life as a blog and Instagram account, yet Emilie's penchant for bold and eclectic design gained traction and evolved into a thriving business. With a love for pop art and contemporary design, Emilie invites her clients to embrace their unique style and break free from tired interior trends.
Emilie: I'm originally from France but have spent most of my life abroad in countries including Spain, the UK, and now Dubai. I moved with my family to Dubai in 2016 after 13 years in London. We loved this city from the moment we arrived and haven't looked back. I live with my family in a lovely five-bedroom villa in Umm Suqeim. We moved here during lockdown when the rents were at their lowest. I'm fortunate enough to share an office space with a fellow designer just a few minutes away from our home.
Not many people know this, but I originally trained as a radio journalist. I have a degree in biochemistry and a master's in International Journalism. I started my career as a medical reporter and worked for a media group in the UK, contributing to their healthcare division. I had a comfortable corporate job and was happily ticking along until I went on maternity leave to have my daughter, Stella. The chance to stop and take a break from commuting and working long hours made me realize that I would struggle to return to this life after having my daughter. We had recently purchased a four-bedroom townhouse in London, and I had so much fun redecorating it that I wondered if that was something I could turn into a business.
I realised that there was a gap in the market for affordable, vibrant interiors - something for fans of Tom Dixon but on a Zara Home budget! With the support of my husband, I left the corporate world and retrained as an interior stylist. I handled my studies around my daughter's schedule which meant a lot of late-night studying!
I first launched Stella + the Stars as a blog and Instagram account in 2015. I started working with brands on social media collaborations. The word 'influencer' didn't exist back then and not many people were showing off their homes on Instagram so it was a bit of a novelty! My first clients came from social media and it snowballed from there.
Stella + the Stars is all about bold, colourful, irreverent interiors. Life's too short for a beige home! We don't take ourselves seriously here, our ethos is about happiness in a colourful home. We help Dubai residents to add a little je ne sais quoi to their interiors through bold palettes, quirky furniture pieces and unexpected accessories.
I feel my aesthetic is playful and fun. I'm just as partial to a neon sign as I am a bold print! I enjoy mixing eclectic styles and colours - more is more in my book.
I love my job, I get to help people turn their boring, dull rentals into cosy and colourful environments that they enjoy spending time in. I know it sounds cliche but I've loved every single project that I've worked on. I'm very picky with the clients that I take on as I give 200% to each project.
I have many interior design heroes and heroines - Jonathan Adler, Philipp Stark, Abigail Ahern, Kelly Wearstler, Sarah Sherman Samuel, and Martyn Lawrence Bullard - to name a few and in no particular order. I draw inspiration from everywhere, from artists, hotels, stores, and even kids' play areas!
I'm a maximalist at heart. I prefer not to follow trends and instead decorate spaces that tell the story of their owner. Your home should not be a replica of a Pinterest board but instead, be a fun space that reflects your personality. I'm obsessed with pop and contemporary art - the gallery wall style will never die. In my mind, if you fall in love with something, it should be in your home!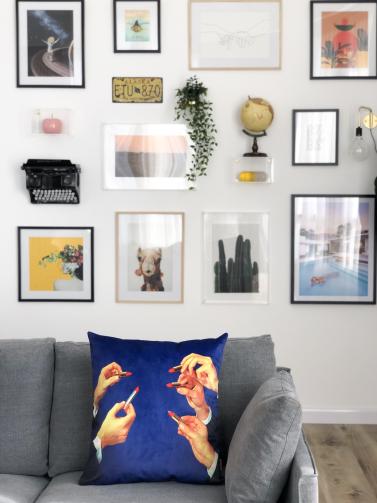 I'm currently finalising the designs for a lovely AirBnB apartment in Dubai Marina. I'm also working on a very personal project - my husband and I invested in a couple of small apartments in Business Bay that I'm currently completely transforming to be rented out, fully equipped, and furnished. It's been a labour of love and the first flat is just days from completion. The estate agents are coming in a few days to put it on the market. I feel like I'm about to send one of my kids to school for the first time! I've absolutely loved the process and being my own client is so liberating!
Interior design should be fun - once you've found your own style don't look at what everyone else is doing! With the deluge of ideas, trends, and endless possibilities, design can be daunting. I want to encourage people to take risks and be bold with their style choices - as I said before, life's too short to live with beige.
All images courtesy Stella + The Stars.