The Lifestyle
What to expect at Art Dubai 2021
Top 5 experiences for Art & Culture enthusiasts at Dubai International Financial Centre
Words by Aneesha Rai in The Lifestyle · Mar 31st, 2021
Dubai International Financial Centre (DIFC), one of Dubai's most sought after lifestyle destinations, is gearing up to host the best art and culture experiences for Art Week taking place from today until Saturday, 3 April 2021. Art Week includes the 14th edition of Art Dubai, the world's largest international art fair, being hosted across a number of purpose-built venues at the iconic Gate Building and throughout the Centre. Part of Art Week is the 11th season of the popular biannual DIFC Art Nights.
With late night gallery openings and an al fresco dining scene, art aficionados, connoisseurs and the cultural community can discover inspiration, admire breathtaking architecture, participate in workshops, and relax, dine, shop and play at DIFC's 350+ retail and dining outlets. Visitors can also enjoy one of the UAE's largest public collections of art which are situated throughout the Centre. Here are some of the top 5 experiences to visit during Art Week are below:
1. Explore The Fair
Art Dubai will feature 50 leading contemporary and modern galleries from 31 countries, showcasing a diverse selection of artworks, artists and practices, reflecting the multicultural identity of the city. Isabelle van den Eynde, founder of Gallery Isabelle van den Eynde (Dubai), Kristin Hjellegjerde, founder of Kristin Hjellegjerde Gallery (London), Nathalie Obadia, founder of Galerie Nathalie Obadia (Paris, Brussels) are among the list of highly anticipated exhibitors. Access to the fair will be via pre booked slots facilitated by the Art Dubai App. The event will ensure the highest COVID-19 safety protocols, creating a secure, safe and flexible environment for participants and visitors.
When: 29 March to 3 April 2021
Where: Gate Building and throughout DIFC
2. Difc Art Nights
One of the most anticipated and important Art Nights of the year, DIFC Art Nights provides a platform for both local and international artists to exhibit to a unique global audience at the Gate Village area on a complimentary basis. Themed on the sentiments of hope and positivity, this season will showcase creative art installations by eminent artists that are looking towards the future and aimed at creating positive experiences for the residents and visitors. Dubai has had some big wins this year, including mission to mars, Art Nights carries on this sentiment allowing inspiring installations such as a set of LED astronauts hung-off the facades of the Gate Village buildings, to reflect the same excitement and vision for looking beyond the here and now. Furthermore, the vibrant art event will exhibit an exceptional breadth of sculptures, paintings, and more from art galleries across the Centre.
When: 1 to 2 April 2021
Where: Gate Village, DIFC
3. Sotheby's
Sotheby's has been uniting collectors with world-class works of art since 1744. A truly international auction house, Sotheby's offers collectors a wide range of services and experiences to reflect an overriding passion for art across all categories – from paintings and sculpture to jewellery and cars. Host to a vibrant calendar of exhibitions, Sotheby's gallery space in Dubai is a hub for art lovers with public displays of eclectic highlights from our auctions across the globe, educational events, workshops and lectures.
Where: Gate Village, Building 3, DIFC
4. Sculptures To Look Out For
Situated around the Art Dubai tents and peppered throughout DIFC are several notable sculptures. The centre is home to five large-scale sculptures by celebrated New York-based Spanish artist, Manolo Valdés at the heart of DIFC's Gate Building area. These include:Clio Dorada (2017) and La Mariposa (2015). Clio Dorada and La Mariposa were chosen to balance each other. Placed in ponds on the side of DIFC's iconic Gate Building, the business and intricacy of Clio Dorada is the opposite of the apparent simplicity of La Mariposa. Mariposas (2015) and Butterflies (2013) Mariposas and Butterflies share the same theme and were positioned in the grass area opposite the Gate building. The choice was made to match the volumes and the architecture surrounding their environment. La Diadema (2015) was installed on a platform, offering the viewers two very different angles and interpretations. The same artwork will look totally different when seen from the street than when seen from inside DIFC.
5. Tabari Artspace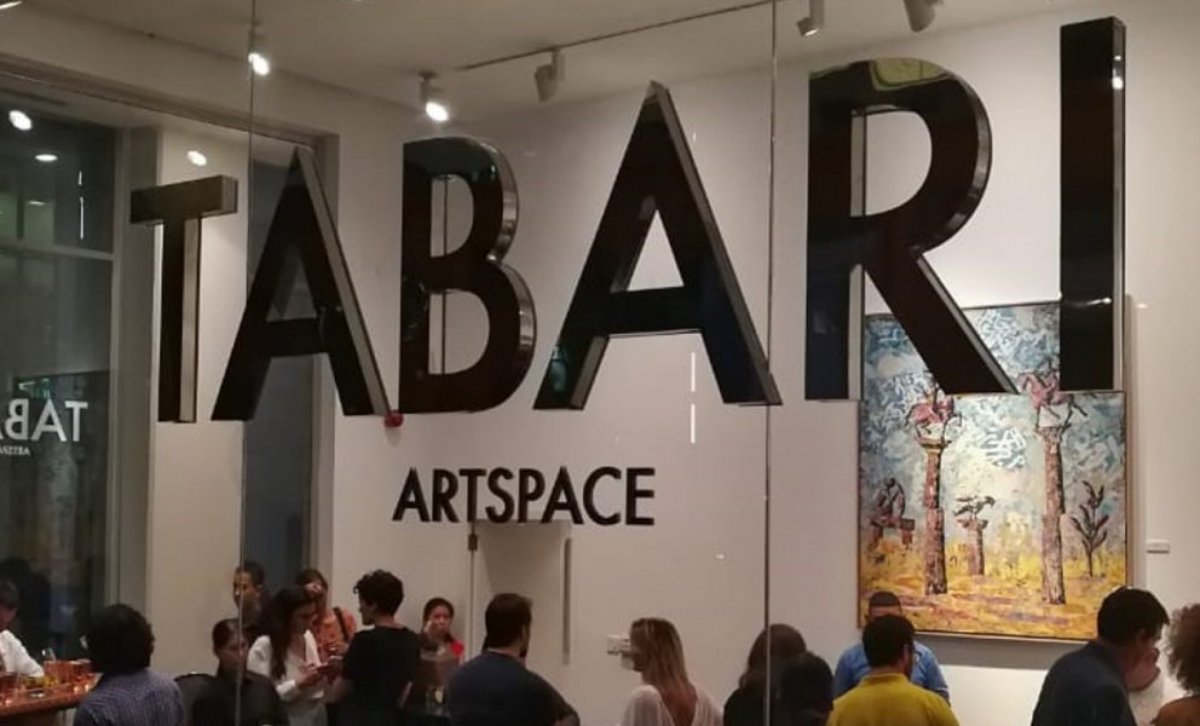 Tabari Artspace, has been a pioneer in establishing a contemporary art scene in Dubai since it was founded in 2003 by collector and art consultant, Maliha Tabari. A strong passion for the arts led Maliha to become an expert in contemporary art in the Middle East, building her own personal collection and advising on the establishment of others. The gallery represents and champions a range of established artists and is dedicated to the global promotion of modern and contemporary Middle Eastern art.
Where: Gate Village, Building 3, DIFC