The Lifestyle
The Menu: The Artisan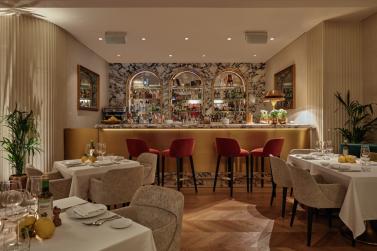 We speak to Firaz Fawaz, the Founder and Managing Partner at The Artisan, one of Dubai's favorite Italian eateries
Words by Aneesha Rai in The Lifestyle · Sep 9th, 2022
The Artisan situated at the Waldorf Astoria, DIFC breathes a timeless yet modern aesthetic and ambiance into the venue with cosy, warm interiors with stunning food to match. Listed on both the Michelin guide as well as has received the one toque status by Gault&Millau, we speak to the Founder Firaz Fawaz on the culmination of the fine balance between the restaurant's old-world charm and yet contemporary approach to food - an approach that can be best described as truly artisanal.
Fawaz: I was born in Lebanon and spent most of my childhood travelling between Africa and Europe where my family was based. We all share the same value that food brings people together and keeps us connected. In our family home, we often use the time at dinner to talk about life in general or current affairs, allowing bonding to take place over the food. In addition to this upbringing, there were many multicultural environments that "opened the doors" to different societies, traditions, and customs which crafted my personality and character in this industry. This made me strongly believe that the best way to fully immerse yourself in a new culture is by experiencing its food.
To me, Italian food is nurturing; it can be simple and complex but ultimately it is soul-satisfying and it is precisely this feeling that motivates me to keep delivering the best dishes possible, I want everyone to experience it. Since childhood, discovering new cuisines and learning about food always interested me. Before I knew it, it became a hobby that evolved into a real passion over time. My interest in the F&B industry started with my deep admiration for the culinary world. I saw a real opportunity, so I started to work tenaciously in order to bring internationally renowned chefs to the region. With that, my goal of taking each and every customer on an immersive, "artisanal" journey across the Italian peninsula came to life.
Our menu inspiration comes from the brand's core value which is Italian authenticity. In addition to this, our Head Chef Franceso Magro takes into consideration seasonal products when creating new dishes, so to keep the menu fresh and up to date. The Artisan inspiration comes from the real-life artisans that fuel our concept. From our food suppliers and beyond, to the Richard Ginori dinnerware we use to serve and present the dishes. Every detail of our culinary journey from the source to the table is carefully curated so that the experience is authentic and truly Italian. Our commitment to excellence and craftsmanship is reflected in the product: our ingredients are sourced from the finest suppliers in Italy. For example, at the bar, we serve expertly concocted drinks and cocktails including our in-house classic: The Negroni. Finally, for the wines, we have a wide selection of hand-picked labels by our General Manager Tommaso Li Vigni along with our wine sommelier that allows us to offer the best to our customers.
When I was working on a mood board for the Artisan, I was hoping to bring in bolder colours and textures while keeping the glamour and laid-back feel for guests. I set out to create a multifaceted small venue that would transition seamlessly for both day and night. These objectives resulted in a chic medley of disciplines.
The wooden floors with Italian Calcatta Vagli marble skirting are tempered with blonde wooden fixtures, while some of the walls are transformed with sculptural ribbed columns. Cream upholstered chairs are joined by plush sofas in green and patterned designs, adding a restrained- but-regal pop of colour.
The sweeping Calcatta Vagli marble and brass bar anchor the space, serving up an exquisite drinks menu. All of the fittings and light fixtures are Flos, to tell stories of connection between light, people, objects, and spaces. Beige and creamy textured walls and flooring are accented by furnishings upholstered in boldly hued-coloured textiles that evoke the intimacy and comfort of a living room. The restaurant's material and colour palette of patinated brass and bronze, Calcatta Vagli marble, with green and red velvets birth a new atmospheric mood and a convivial daily hangout. The unique brass and antique mirror effect around the bar area subtly reflects the beauty of the venue.
Furthermore, the space is punctuated by an abundance of tropical greenery, planted in minimal bronze and brass pots set along the floor. The crockery is designed by one of the best Italian manufacturing houses, Richard Ginori to amplify the vintage feel, reflecting the traditional aspect of the Italian cuisine that the restaurant offers.
The Artisan is a whirlwind of the most immaculate tastes, textures, and cooking styles, gleaned from across the Italian Peninsula. It is a celebration of the unique sense of warmth, belonging, and love that only the finest Italian fare can conjure. Every mouthful evokes images of pastoral perfection, architectural beauty, a heritage of majesty, and the unmistakable charm that so acutely defines the Italian spirit; a taste of Italy's past, present, and future – all rolled into one.
We were so excited to partner with the Waldorf Astoria DIFC and have our restaurant positioned as an anchor for fine dining destinations in this amazing property. This iconic International brand opened its doors in DIFC and is so aligned with The Artisan's future intentions. Located in a prime area of Dubai with stunning interiors, giving us a unique opportunity to relocate and establish our flagship restaurant at the hotel.
The recipe I'm going to share with you was developed in-house by our Head Chef Francesco. He worked closely with our suppliers to ensure we get the best quality of ingredients. What's so special about this dish is that we make the pesto daily and in house and it's prepared fresh for each client upon order.
Risotto Basil Pesto And Burrata
BASIL PESTO:
100 g Basil Leaves
20 g Pinenut
70 g Extra Virgin Olive oil
80 g Parmigiano Reggiano
1 Garlic Cloves
Salt To Taste
RISOTTO:
100 g Carnaroli Rice
30 g Butter
20 g Parmigiano
To taste: lemon juice, salt, and black pepper
To top: 100g buratta
FOR PESTO:
● Toast the pinenut in a pan, and keep it aside to cool down.
● Once cold, transfer to a mixer adding pinenuts, Parmigiano, olive oil, garlic and salt. Blend everything until you will get a smooth paste, and then add the basil leaves.
TIP: Store in the chiller as soon as possible in order to avoid oxidation and the pesto will turn black.
FOR RISOTTO:
● Using a non-stick pan, toast the pinenuts then keep them to the side to cool.
● Once cool, transfer toasted pinenuts to a blender adding the Parmigiano, olive oil, basil leaves, garlic, and salt. Blend ingredients until a smooth paste is created.
● Store in the fridge as soon as possible. (This avoids oxidation and the turning of the pesto).
● In a small pot, bring to boil water then keep to the side.
● Using a second pot, add the Carnaroli rice and olive oil. Increase the temperature and begin toasting the rice.
● Once hot, start adding ladles of boiling water, covering the rice, and cook further for approximately 15 minutes. Let rice sit for 5 minutes.
● Once the rice is cooked, remove it from the heat adding butter, Parmigiano, salt, and black pepper.
● Finally mix the rice well, adding two spoons of Basil Pesto.
● Once the pesto is mixed through, the Risotto is ready to be served.
● At last, add the burrata on top.
All images courtesy The Artisan