Design & Architecture
Design House: Caroline Ralston's Cosy & Chic Home
We step into the Proposal Boutique founder's Arabian Ranches home
Words by Aneesha Rai in Design & Architecture · Sep 21st, 2022
This week, we step into Caroline Ralston's sumptuous Arabian Ranches home. Being in a business where setting a mood and designing the right aesthetics is key, the founder of Proposal Boutique grew up being exposed to the projects that her mother worked on as an interior designer. Caroline has been able to seamlessly create a well-designed home that ticks all her boxes.
Caroline: My mother loves interior design and I have grown up watching her transform spaces, so I was excited to experiment when we bought our first home and wasn't afraid to go bold with dark floors and walls to give it a cosy and luxurious feeling. We have maintained a theme throughout the home so that it flows nicely together with either the grey colour scheme or the wood statement furniture pieces.
We wanted a nice entertaining home where people enjoy spending time, so we ensured it was cosy and inviting by having dark floors and a big dining table for friends and family to gather. We love the plantation element, and this is something that we incorporated when adding the shutters and with the addition of lots of plants.
For the office, we wanted it more traditional library feel but with a modern twist, so we opted for a bottle green theme with gold accents and lots of plants.
Our Arabian Ranches home is luxurious, cosy and bold. My favourite space in the home is the living area. I love our enormous Crate and Barrel sofa and relaxing on it reading a book at the end of a busy day. I love sitting in the corner, under the chandelier, and looking at our beautiful custom dining table and out onto the garden. Our custom dining table is the main feature of our downstairs living area. I love that this is a totally unique piece and that it has little imperfections that add to its character.
Caroline: I love our garden and enjoy spending time out there doing yoga, gardening, or having a BBQ. We installed a beautiful pergola with a chandelier so it's so romantic at night surrounded by the jasmine flowers and sitting underneath the frangipani.
I also love our ensuite as we completely renovated this into a high-end hotel feel bathroom with a built-in music system and light system so the lights change colour throughout the day.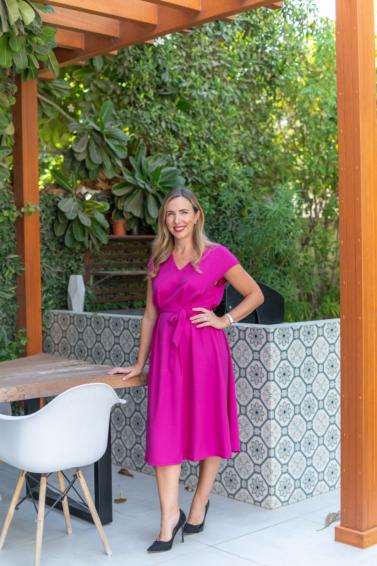 Caroline: Our artwork is from local artist Sama Jamlaney. We worked the wall colours around her pieces. I have followed her for years and her work is beautiful.