The Lifestyle
In The Studio: Layla Kardan
The Dubai-based singer-songwriter offers a glimpse into her dazzling cabaret concept, Papillon
Words by Laura Cherrie Beaney in The Lifestyle · Aug 12th, 2022
As a child, Layla Kardan dreamed of pioneering a theatrical space where fantasies might spill over into reality. Bridging her business acumen with her absolute commitment to performance, she's been busy setting the stage for a deep immersion into Parisian-style cabaret in the UAE. The result is Papillon - an expertly choreographed fusion of theatre, dance and fine dining orchestrated to awaken the senses. Set within a speak-easy-style space with a purpose-built stage, respect for the art of entertainment underlies it all. Sparing no detail, set pieces themed around 'sensual liberation' have, for example, been conceived in collaboration with Cher's creative director, Denise Faye. Now, Layla Kardan invites us to enter her world of on-stage alchemy.
Layla: I'm a recording and performing artist and an entrepreneur based in Dubai yet I consider myself to be a citizen of the world. Ethnically I'm Iranian and I was born in Belgium, I spent my formative years in Sydney, Australia, and have lived on and off in the UAE for almost two decades. I'm excited to share that I'm also a new mother, I recently gave birth to my first child, Rumi.
I have a great passion for jazz and the theatre and I appreciate art in all its forms. I have a Master's degree in business studies yet for the last four years, my focus has been on making music.
Singing gives me a great sense of purpose and is an ongoing source of enrichment and happiness. Even if I'm not performing, listening to music plucks at my heartstrings and is essential to my daily being. Music inspires all aspects of my life and raises my vibration.
My greatest inspirations are musicians and performers such as Jill Scott, Erykah Badu, Nina Simone, Sade, and Prince. Travel has also been influential in shaping my worldview and stimulating my songwriting. When I visit Paris I feel incredibly inspired - there's something about that city that urges me to write music, I love its culture and creatively-charged history. You can feel the city's influence in my latest venture, Papillon.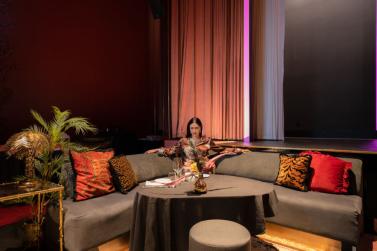 Layla: Papillon is a modern take on Parisian cabaret that unites my business background and my lifelong passion for performance. It offers the UAE an intimate and engaging theatrical experience and show programme to be enjoyed over dinner. I was lucky enough to work on this project with The Westin Mina Seyahi. The venue design was masterminded by the talented Roham Shahmekh. It's a feminine yet edgy space that transports guests to another place and time. Within this setting, I was able to curate a show that spotlights amazing talent, a programme complemented by fine French and Mediterranean cuisine and artisanal cocktails. It really is a unique offering with international world-class performers that light up the stage each night.
While there are plenty of dinner and show offerings in Dubai, Papillon stands apart with its programming and focus on world-class talent. Performances are delivered from a purposely built stage - we're not just entertainment in a restaurant! Our production level is akin to that of the theatre and guests actually stop dining to take in the show - the level of respect shown to the artists is impressive.
It's hard to pick favourites but I really enjoy the tango duo. The Luiziaga brothers deliver an incredible performance, two men simply dancing the tango with outstanding skill!
Layla: I can't take credit for the menu, the team at the Westin did an incredible job of bringing the ideas of my husband and me to life. The result is a minimal, delicious, and seductive menu that appears as art on the plate. We suggested favourites of ours that are both delicate and delightful to taste. We wanted ladies to feel feminine and men to be satisfied once the meal is over - I think we captured this delicate balance well!
A typical night at Papillon is titillating, fun, and fuelled by passion. It's risqué and beautiful - escapism into the world of cabaret in the most elegant and tasteful form. After the dinner and show the space transforms into a club concept, Le Club and the party continues long into the night accompanied by the beats from our vibrant resident DJ, Miss Rich.
The best piece of advice I've ever received relates to human subjectivities. I was once told that you can be the juiciest peach in the world, but not everyone likes peaches. The moral behind the phrase is that one should not strive for validation from others as no matter how good you might be at what you're doing not everyone will share the same appreciation for it - and that's fine! This can be applied to life both on and off the stage.
Right now I'm busy working on the Papillon programming as well as my new album and a new business concept. I'm also simply discovering how to be the best mum I can be to my little baby.
Credits: Creative direction by Aneesha Rai