The Lifestyle
In the studio: Tom Butler
We speak to the artist about his Dubai-skyline inspired exhibition
Words by Aneesha Rai in The Lifestyle · Dec 7th, 2021
In this edition of 'In the studio', we interview the artist Tom Butler, known for his show-stopping collages. Tom will be exhibiting his latest series 'Iconicity', dedicated to Dubai and its iconic skylines and the city's best architectural achievements in Mestaria Gallery from 11-25 December.
Q: Tell us about your design process
Butler: It always involves being inspired by a place or a city and I always take a lot of photos. What I see, live, breathe; I transfer that into the artwork. I transfer the movements, the atmosphere, shop signs, taxis, and so on. I collect locally sourced materials, newspapers, magazines and then I bring it all back to the studio.
My process is old fashioned in that I need papers and printed material for collage. This adds graphical elements to the paintings as well as layers, and creates interest, intrigue and mystery. It gets people asking questions and thinking about my art.
I start each piece by not planning anything, I view it as a treat to not have everything mapped out and really enjoy creating happy "accidents". The process is to then build up the layers, swapping collage – paint – collage – paint - then, fusing the printed matter together. It should look good from a distance, and reveal more on closer look.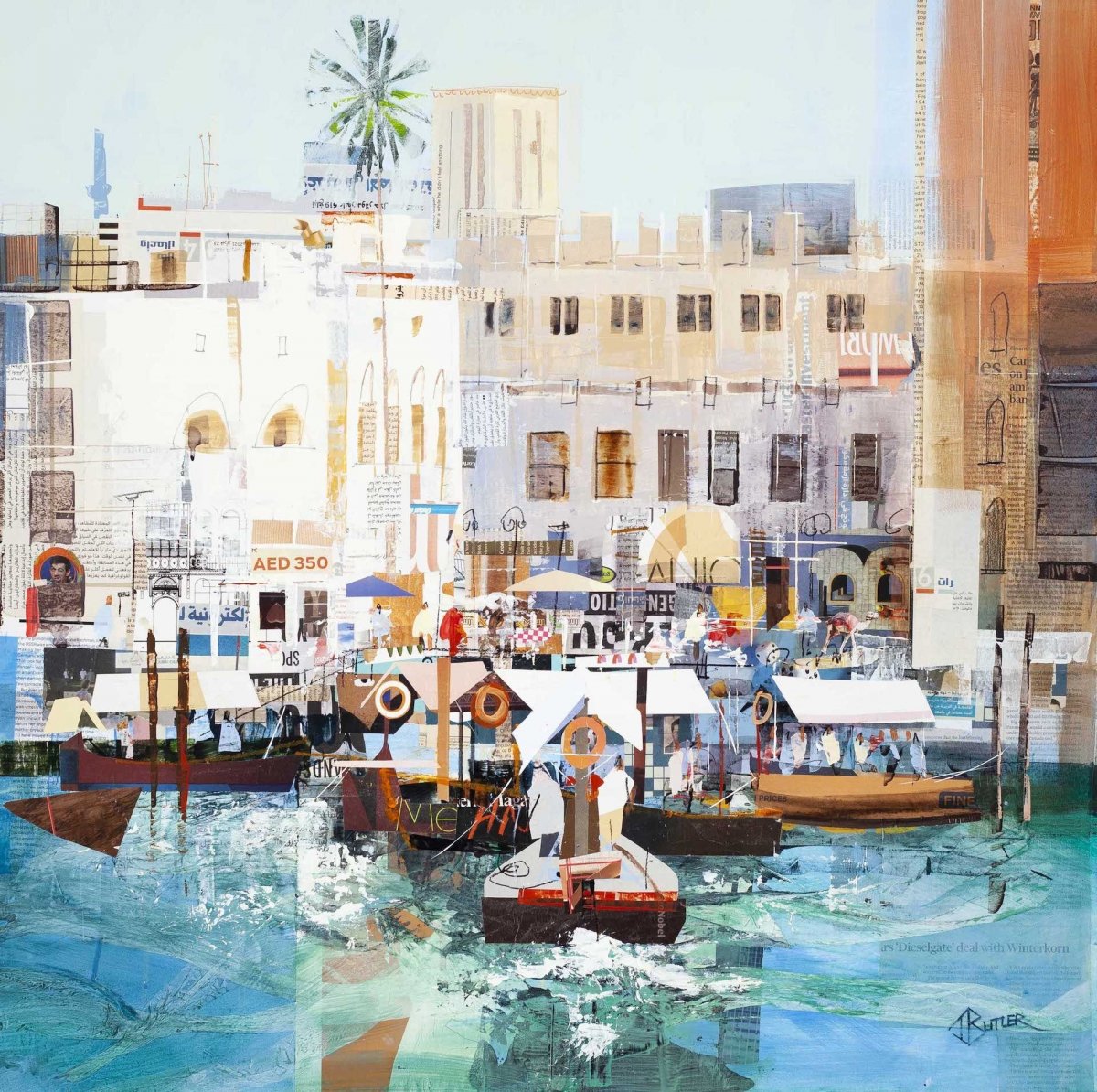 Q: How does Dubai inspire you?
Butler: Dubai is a city that you hear about, and see lots of images, of. It is full of skylines, modernity, innovation, its often deemed a "moneyed" city but has heritage in older parts. I wanted to explore the older parts in more detail. Old versus new is what excites me and inspires me – depicting heritage in its newer surroundings.
Most cities I work with usually have the rustic and the diverse in them; high streets, quaint old buildings, architecture. The challenge in Dubai is it's a modern city but if you turn a corner you've got rustic too.
Q: What's your opinion on Dubai's art & design culture at the moment?
Butler: In my mind, Dubai's art scene has exploded; it's gone from being a city that wasn't well known for its art scene to a cultural hub. In fact it is not just Dubai, it is the UAE in general. Sharjah and Abu Dhabi too are both huge contributors to the arts and culture scene.
Q: What are your favourite spots in the city? Tell us about some of the places where you derive inspiration.
Butler: The creek is one my favourite places, as are some of the beaches and fishing harbour in Jumeirah. I love painting with water movement and incorporating all activity along there. Again, there is such diversity there: jet skis and dhows; oyster bars and local fish markets. Then there is the water reflection and the incredible colours created by the sunset.
Q: What's your favourite coffee table book?
Butler: If I had the time to sit down and read …. On the weekend I pick up the Sunday papers and I love The Financial Times; firstly to read, but often, because it is topical, real-time and thanks to its peachy colour, it makes its way into my paintings.
Q: Any local artists/architects that you admire?
Butler: I like abstract art and those that arrange colours and textures in a free-flowing way. I've been interested in following Sacha Jafri and his #HumanityInspired project. Architect-wise, I really like the work of Jonathan Ashmore and his practice Anarchitect.