The Lifestyle
The Space: Salmon Guru
From Madrid to Dubai, this unique cocktail bar blends a sixties-style tropical speakeasy, an Asian night market and more
Words by Aneesha Rai in The Lifestyle · Oct 28th, 2022
In this edition of 'The Space', we explore Salmon Guru at The Opus in Business Bay through the lens of Managing Partners Jad Aboujaoude and Farah George Farah. Bringing together a blend of a sixties-style tropical speakeasy, an Asian night market, and a comic-book-themed space, the space delivers a lot of quirk and is aided by its eclectic menu.
Jad: Salmon Guru Dubai's design was largely inspired by the first Salmon Guru branch in Madrid. It combines three distinct areas: the Sixties-style tropical speakeasy, an Asian night market, and a comic book-themed space. Featured in elements like neon lightning and comic book "BAM" sign, the Geisha neon, the Chinese lucky cat, panda bears, and Japanese kamikaze. Another iconic feature is the Guru's bar, which is quite open and sits right in the middle of the action for everyone to watch Salmon Guru's eccentric cocktail-making.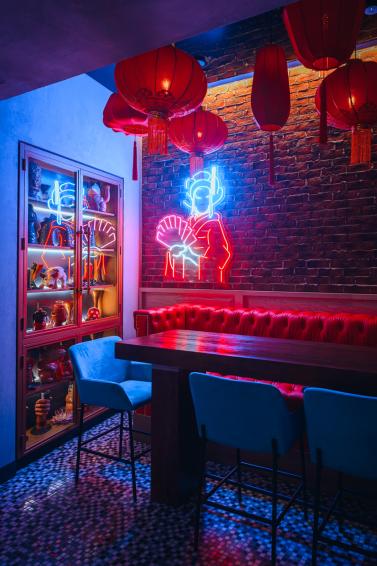 Farah: The venue design and features are a true reflection of the menu in its combination of flamboyance and flawless execution. The signature cocktail menu offers well-balanced and distinct flavours, fruity, sour, refreshing, and strong beverages, and - crazy! All are served in exclusive and specially-themed figurines for Dubai. To accompany the cocktails, we also offer a menu featuring several sharing platters that are original and beautifully presented.
Jad: We chose the venue for many reasons: the location, which is rightly situated in the heart of Dubai and close proximity to downtown Burj Khalifa, Business Bay and the financial district. and the building itself, the OPUS, which is an icon of design and architecture wondered by visionary Architect Zaha Hadid. Other reasons include the building mix use structure, which also features a five-star ME hotel, an office tower, luxury residences, and other premium F&B destinations nearby, which makes the OPUS a trendy F&B and lifestyle destination.
All images courtesy Salmon Guru