5 Reasons Why African UHNWIs Invest In Dubai
We list 5 reasons why well-off Africans are buying into the luxury residential market in Dubai.
Words by Aneesha Rai in The Market · Feb 19th, 2015
In 2014, Dubai has emerged as offering reasonable prices per square feet for prime luxury residential property. A million dollars spent in Dubai can offer you up to four times of space on a luxury property in comparison to metropolises like London, New York and Hong Kong. Here are other reasons why wealthy Africans are investing in Dubai:
1. Strong Economy

The Dubai economy is set to grow at a rate of 4.5% this year. Investor confidence remains strong in the area as its high quality infrastructure and controlled inflation help stabilize the city's economy despite dropping crude oil prices. Its stable currency exchange rate against the US dollar remains formidable at AED 3.67. Pegged by the International Monetary Fund (IMF) as an emerging market in 2013, Dubai remains one of the world's best performing real estate markets, regulated by the Real Estate Regulatory Agency (RERA). Credited as one of the tax free havens of the world, Dubai offers no taxes on establishing businesses in its 18 special economic zones or "free zones" for the next 15 years. No wonder the World Bank ranked the UAE high in their list of its 'Ease in Doing Business' report.

Dubai's ideal location provides you easy access in just a seven hour flight from one-third of the world's population. In 2014, Dubai International Airport also beat London's Heathrow as the world's busiest airport. The first phase of the construction of the Al Maktoum International Airport has been completed, and the number of passengers per year is predicted to exceed 160 million passengers once it becomes fully operational. Emirates airlines is now Africa's most prominent air freight and cargo airline and additionally is the cause for the rise in African passenger traffic in Dubai. In addition to this, Africa is reportedly the largest export market for consumer, electronics and IT equipment sourced from Dubai, according to The National. Dubai also holds strong trade relations with the US, China, Russia, and India.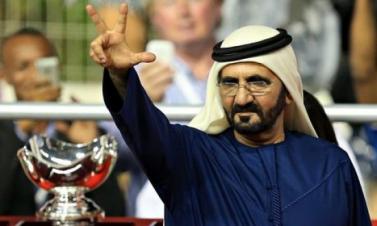 2. Political stability

Practically untouched during the Arab Spring in 2011, Dubai is ruled by a monarchy that is both tolerant and compassionate and well loved by its residents. There are minimal economic and social disputes against the UAE government; protests and public demonstrations are few and far between. The rulers work in collaboration with each other and maintain a level of peace integral to the UAE's growing economy. Owing to its large diversity, Dubai has followed a policy of tolerance towards non-Muslim religious groups and treats them with dignity and respect. The law of the land lies above all religious affiliations, and it is not uncommon to hear of Rulers donating land for houses of worship for non-Muslim faiths. The UAE government also makes efforts to inform its citizens to avoid extremist ideologies.
Accoladed as one of the safest cities worldwide, Dubai provides both safety and security for its residents. In 2014, the Social Progress Index revealed that the the UAE reported the lowest homicidal rates in the world. The UAE also ranked first for the lowest level of violent crime. Its low crime rate ensures that the city is safe and sound round the clock. If you are in need of additional safety, there are several private communities in Dubai that would fit the bill.
3. Luxury Lifestyle

Emerging rapidly as a luxury destination, Dubai offers you the best of the best in world class luxury shopping destination. From jewelry to automobiles and watches, the emirate provides you a large variety of brands all under one roof in its extensive shopping malls. Aptly titled "The City of Gold", Dubai is a Guinness Book of World Records holder for several titles including the world's tallest building, largest vertical maze on a building, largest shopping mall, and largest indoor ski resort. Dubai has also emerged as a leader in the GCC region in terms of high net worth individuals. The stable, sunny weather enables the city to hold several eminent events take place throughout the year that will tickle a variety of interests including the Dubai Polo Cup and the Omega Dubai Desert Classic.
4. World Class Education and Health Care

The UAE is rapidly emerging as an education hub, offering quality education at reasonable prices and featuring exclusive private schools such as Eton from the U.K. as well as eminent universities including the London School of Economics, Middlesex University, Hult Business School and the Manchester Business School. Several luxury communities such as The Lakes and The Meadows offer close proximity to top-notch schools.
Dubai's close proximity to the rest of the world and its top-notch healthcare facilities has seen it come to light as a destination for medical tourism. The UAE accounts for one fifth of the worldwide medical tourism industry.
5. Hassle free Residency and Property Ownership
The UAE offers zero taxes to its residents in terms of property, capital gains and income, which makes it an excellent place to invest in real estate. About 80% of the UAE's population are expat and have called this city their own. The cosmopolitan culture offers something for every nationality, thus propagating peaceful coexistence across communities. With the city financially booming and a buyer's real estate market developing, there are plenty of reasons why so many want to call Dubai home. For the very first time in the UAE, property investor's visa prices have been reduced to AED 22,500 (approximately US$6,100) for a period of two years and renewable for another two years if they buy a property greater than one million dirhams (US$ 270,000), thereby granting easy access to residency in the city for property investors. These investors can also additionally get their family members to the country at an approximate AED 6,000 (US$1,600) per member. Luxhabitat also offers its clients assistance with the residency visa procedure as part of our award-winning service. Our Head of International Markets, Luke Hexter adds,
We see Africa as a large growth market for Luxhabitat. Since there are an increasing number of African UHNWIs buying luxury property in Dubai, we have launched the first phase of our campaign in Nigeria and hope to expand our reach to Ghana, Angola, and South Africa in the coming months.